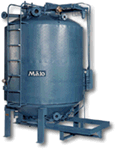 The Mãlo Crateless Retort System is designed for optimum flexibility. System size and configuration is a function of line speed, can size, cook requirements, and available space. The system is often configured to fit existing facilities.

The system handles any process temperature up to 270°F (132°C), higher temperatures are available. The retort has been NFPA tested for uniform and accurate heat distribution. Typical applications include processing low-acid vegetables, tomatoes, pet food, fish, and meat products.

In the first stage of the process, the retort is filled with cushion water. Cans are then loaded into the retort with Mãlo's high speed conveyor, which accepts any size without modification.

When the retort is fully loaded, the cushion water is replaced by steam, and the cans are cooked at the correct pressure and temperature. After cooking, the retort is once more filled with water, and pressure cooling, if necessary, is performed.

The cans are then gently discharged into the canal system for final cooling, where temperature is constantly monitored. The cans then proceed along the conveyor to the unscrambler to be oriented. All conveyor transfers take place underwater.

Mãlo's crateless retort system is so efficient one man is able to operate two lines of retorts, regardless of the number of units installed. Automated microprocessor based control technology, designed by Mãlo, provides precise control of retort functions and maintains critical records to satisfy the user's most stringent requirements.
A water reservoir system, prefabricated piping, central motor control cabinet and sand filter package are among the many options available.
MÃLO MICROPROCESSOR BASED CONTROL SYSTEM
The Mãlo Microprocessor Based Control System provides excellent, repeatable, centralized retort process control with the capability of collecting, storing and outputting data for various management documents.
MÃLO SAND FILTER
Heavy duty industrial grade sand filtration unit including pump and controls, specifically designed for the Mãlo System. Includes variable time automatic back-wash.
MÃLO CENTRAL MOTOR CONTROL CABINET
Central motor control cabinet for all pumps and drives within the system. Completely assembled, pre-wired, tested, and finish painted.
MÃLO UNDERWATER UNSCRAMBLER
Mãlo's proven water cushion principle employed extensively throughout the Mãlo Crateless Retort System, to prevent can damage, was used to develop the Mãlo Underwater Unscrambler. This machine quietly and gently positions cans on end for delivery to a takeaway conveyor. The Mãlo Underwater Unscrambler is capable of handling today's full range of can types from tall cans to flat cans, 2-piece, easy-open, and lithograph.
The Mãlo Underwater Unscrambler may be retrofit to existing Mãlo Systems and may be adapted for use with random loaded retort crates when unscrambling is required.
MÃLO CAN ORIENTING SYSTEM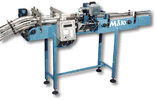 The Mãlo Can Orienting System will consistently deliver properly oriented cans to downstream labeling, casing, stacking equipment.
Single filed cans pass a sensor that tests their orientation based on programmed test criteria. Cans failing the test are ejected into a second lane. Cans in one of the lanes are then mechanically rotated 180° to match the orientation of the other lane.
Machines may be equipped to orient based on a variety of can differences such as, 2-piece, pull-tab, depth or diameter variance, etc. Customers have chosen Mãlo Crateless Retort Systems for their low initial cost and rapid return on investment. But there are many other advantages to the Mãlo system:
ONE-MAN OPERATION. You'll save substantially on labor costs.
ENERGY SAVINGS. No BTU's are wasted; steam consumption is comparable to a hydrostatic cooker.
GENTLE HANDLING. Mãlo's water cushion system eliminates can damage.
COMPLETE FLEXIBILITY. The system handles any size can without major adjustment.
HIGH LINE SPEEDS. The system facilitates modern, high speed processing.
If you are still using other cookroom methods, Mãlo has a profitable alternative. Let us show you just how much you can save with the original crateless retort system. To arrange to see a system in operation, please contact us today.